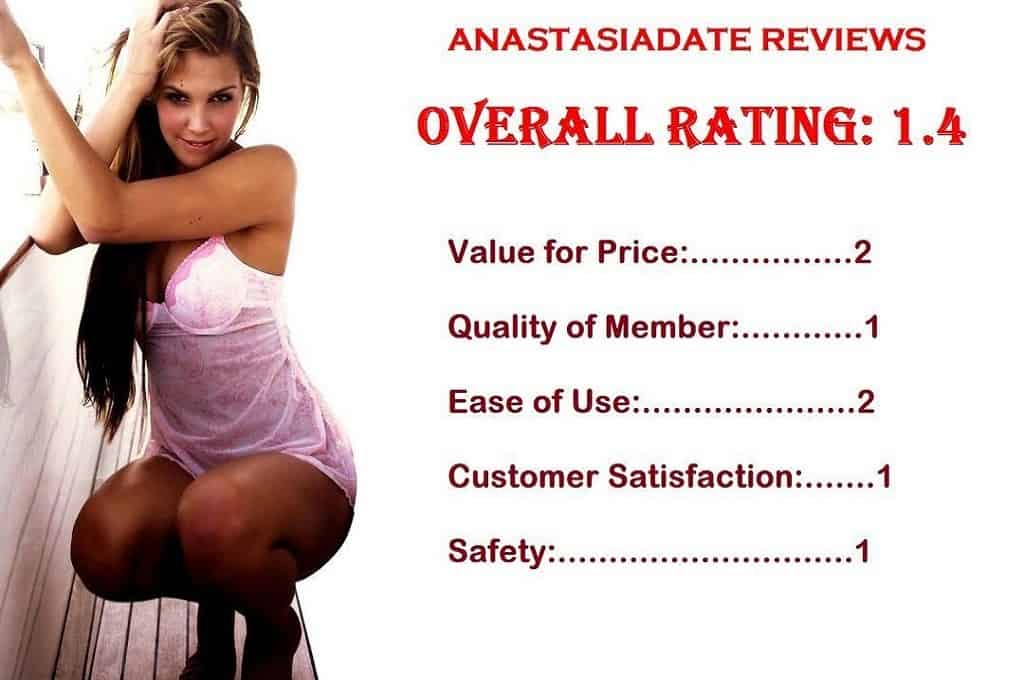 AnastasiaDate Review
       1.4/10     Overall Rating
---
              2.0                    Value for Price
---
              1.0                    Quality of Member
---
              2.0                    Ease of Use
---
              1.0                    Customer Satisfaction
---
              1.0                    Safety 
---
Pros & Cons
Pros
---
+ Diversified people
---
+ Chats are easy
---
+ Video chat feature available
---
Cons
---
– Need to pay for everything
---
– Fake and paid actors
---
– Too many ads
---
The AnastasiaDate Review
Editor's Summary
Dating apps are fun but open when they are genuine. As a matter of fact, many people find their life partners on such apps and are grateful that they both were part of this app. But this article is not about those genuine sites. It's about the AnastasiaDate Review site which is doing nothing but wasting people's time and emotions.
In-Depth
Sign Up Process
Once you start signing up on the site, you won't be asked for any charges or membership fees. But wait till the time you get a girl on board. Now, here's the catch! In order to chat with women you liked on the site, you need to pay credits in order to move further.
Members and Messaging
Initially, for three minutes you will be charged anything.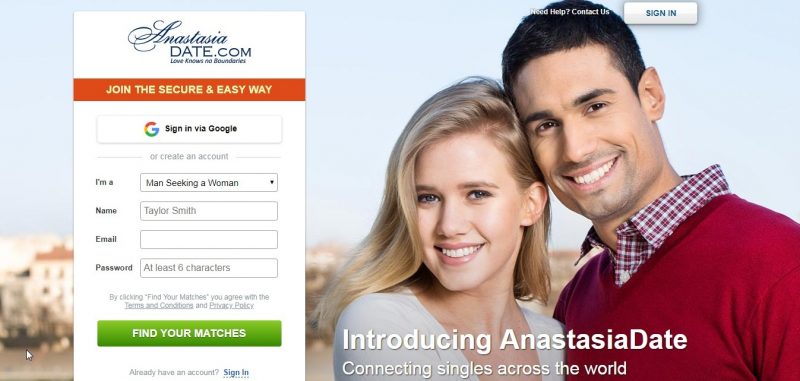 But you will be prompted to pay for the credits. Yes, you read it right! It's a credit-based format on this dating site. Credits are generally sold in bundles as you are priced for each minute of chat as well as a video call. If you go for bulk, you need to pay $399 for 1000 credits.
One credit is worth a chat of a minute and two credits worth a video chat a minute and it goes on.
Key Features
Guess what, if you want to gift a virtual presence to the woman you are chatting with, you have to pay for the same through your credits. Not think of Gifs that you might have used on WhatsApp as a virtual gift to your girl. Such a waste of money, isn't it?
You will find many features on the dating site where you can video call with the girl, send them virtual gifts, and talk through email as well, but nothing is really worth the amount of money you spend on the same.
Safety and Security
Well honestly, the women on such site are either paid actors or probably a robotic response from the system. If you are hoping to meet the perfect girl for yourself, you might get disappointed. And speaking of the money, you might lose thousands of dollars just to get in touch with the beautiful women on the other side of the screen.
RELATED ARTICLE: To Give You an Dating Idea of How Bad AnastasiaDate is I will use an Example
And guess what, if you are receiving an email from the beautiful girl, you need to pay for the translating charges. I mean how stupid that is! No matter if the preferred spoken language of the girl is English itself. Sounds fake ad sham to me already!
Well, of course, the culture is diversified as you will find people from different parts of the world, but why not just add them on your social media page and chat there instead? Think about the amount of money and time you will be saving there.
Dating apps are worth your trial, but paying for just two minutes of video chat is not what I am up for! And I suggest everyone the same. But well, the choice is yours! I am done spending on the credits, I would rather switch to a social media platform to speak to a real-time woman who, at least I know, exist!
Main Competitors – Anastasiadate Review
Pricing
Add up to Price Per Option
AnastasiaDate.com doesn't utilize a conventional month-to-month part framework. Rather, clients purchase credits to have the capacity to get to every one of the highlights of the site. For instance, to peruse or communicate something specific or view a video, a part should relinquish 10 credits.
---
20 Credits                                                                                             $15.99
---
40 Credits                                                                                             $30.00
---
80 Credits                                                                                             $56.00
---
160 Credits                                                                                           $96.00
---
320 Credits                                                                                          $185.00
---
500 Credits                                                                                          $249.00
---
1000 Credits                                                                                        $399.00
---
Know about Biggest Dating Scam